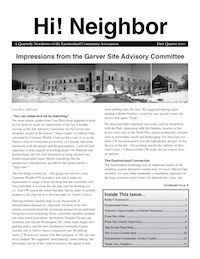 Hi, Neighbor! is the quarterly newsletter of the Eastmorland Community Association and is published the first day of the following months: February, May, August and November.
Articles for publication are welcome and should be sent to: zimmerman.dan@hotmail.com as an attachment in Word format. If email is not available, copy can be mailed to ECA, P.O. Box 14584, Madison, Wisconsin 53708. Advertising information can be obtained by calling 241-1158 or by emailing zimmerman.dan@hotmail.com. The deadline for copy and advertising is the 10th of the month prior to publication dates
Download the current newsletter.